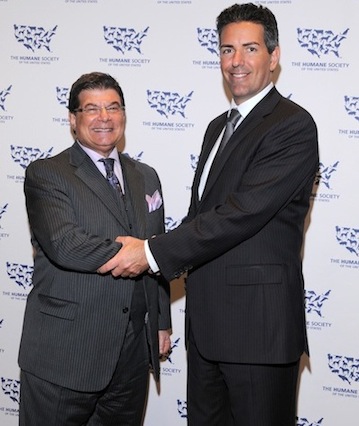 Last night the Chronicle of Philanthropy broke the news that HSUS CEO Wayne Pacelle is under internal investigation for sexual misconduct–sleeping with a junior staff member, specifically. Pacelle has been married for several years. (That's Pacelle at right with Arthur E. Benjamin, an HSUS donor/fundraiser who has a history of sexual harassment allegations against him.)
The news comes at a time when accusations and rumors regarding sexual harassment at the hands of someone in Pacelle's inner circle–former HSUS vice president Paul Shapiro–have been bubbling up on social media.
The HSUS board of directors has reportedly hired a law firm to handle the investigation–using donor money, we presume.
It's unclear if the investigation is solely focused on Pacelle's behavior with women on staff, or if they are investigating his role in covering up any of Shapiro's alleged activities and actions.